source: D&E interview
english translation full credits: @gheihyuk twitter
Note: There is a slight edit, for direct source,
Please refer to @gheihyuk D&E Interview Twitter Trans (Thank you)
shared via- withsky0408 @ sjworld.net
---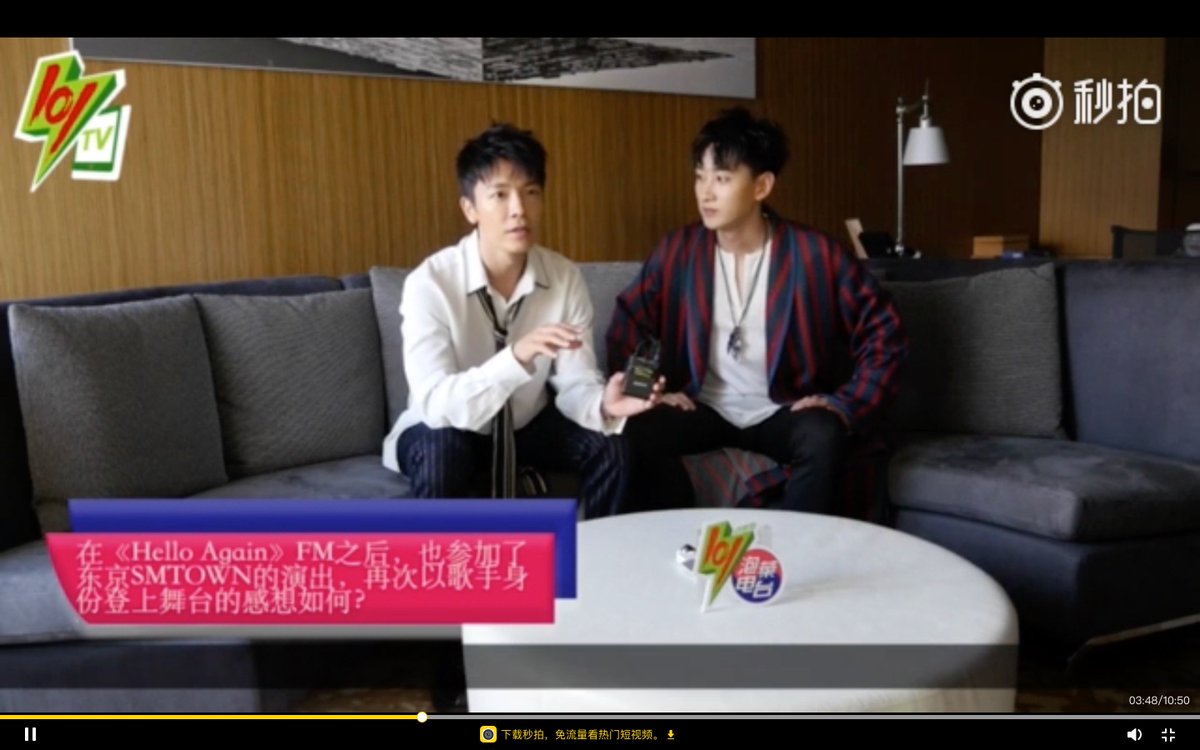 http://www.miaopai.com/show/Z2F32yjL5Vjq6HPrPyXDXEDo0KRB1d9GuinbJQ__.htm
Q: Comment on each other's greatest change before and after army. What do you miss most while being in army?
EH: The greatest different is.. firstly, he became a real man, became more handsome and gives off a more manly feel.
DH: What is what a lot of people thinks because there have been a 2 year gap, this is unavoidable. Talking about change, even though we became more manly, but I think we became younger.
EH: Saying this makes me shy..
DH: I know you will be shy so I said it first…
EH: Thank you. Because I was really serious about self management~ To meet everyone after a long time, we really work hard managing ourselves to show everyone our good looking and cool side so to some extend, you can say that we look younger…
DH: What i miss the most during army (then his voice broke HAHA)
EH: You are trying to say that it's them (refers to ELF) right
DH: Yes of course i miss the fans the most while I was in army and also the members and also doing super show, recording albums, I will think of all the memories on stage.
EH: Me too! A lot of fans sent in letter and I spent my free time reading them. The letters gave me a lot of strength and it brought back a lot of memories.
Q: When can we hear D&E's new song?
EH: When is our new song coming out? (LOL Hyukjae sounds like he is teasing us here)
DH: we will first focus on SJ's activities. even though there are many fans who like D&E, D&E activities are scheduled for next year,
EH: but we can't really say for sure, since we like to surprise people and give them gifts so we may say next year but it might not be…  (HYUKJAE IS SUCH A TEASE)
EH: I wish fans continue to stay curious… (LOL ㅋㅋㅋ)
DH: it might come out next month~
EH: yes we might surprise fans any moment, so please anticipate!!
Q: The song "Winter Love" has left a lot of fans feeling touched, Can you talk about how the song is being composed?
DH: this song was composed as a gift for our fans before we enlisted and the meaning was for fans to wait for us and also before we enlisted, the only thing we can do for fans was to compose this song…. The song lyrics is about temporary separation. Even though it was autumn, but because we had to part so it felt like winter… It included the meaning that we would go and return well, as a present for our fans.
Q: How would you describe yourself in the 30s? What will you be like in 10 years?
EH: We were asked this question quite a lot when we were in our 20s and as I recalled my answer and now that I am really in my 30s, it is different from what I imagined. I still look really young and I'm still doing activities and releasing songs, so I cannot foresee what will happen 10 years later and I feel like it will be different from other people in their 40's.
DH: We might still be working hard and promoting~
EH: Because we want to be together with everyone for a very long time. Therefore, we will work hard to stay together for the next 10 years to continue showing everyone our good sides.
Q: Each, please say a line that you are confident in Chinese.
EH: Long time no see my wife (HAHAHA and EunHae both burst out laughing)
EH: I miss you! Are you ready? I love you all~ (in Chinese) 
DH: Long time no see I am Donghae. My dear babies (his favourite line LOL), are you all healthy? I am also healthy. Recently, we are preparing our new album so everyone please look forward. I love you all~ thank you! (still speaking in Chinese, as Bel noted that Donghae's Chinese seemed to have improve as well) 
EH: Chinese is as easy as eating rice (Hyukjae's legendary line, lol.. and donghae was lauging)
Q: what do you want to say to fans who are here to watch your performance?
EH: Everyone has waited for us for a long time and we really miss everyone, we will never part now right?
DH: (In chinese) You will enjoy SMTOWN concert
EH: I love you all (Hae burst out laughing again) You have to keep confessing your love!! It is better if you keep confessing!
Then Donghae was trying to say other things but Hyukjae kept insisting for him to say I love you all in chinese and Donghae finally did say it! (LOL) ㅋㅋㅋㅋㅋㅋㅋ
---